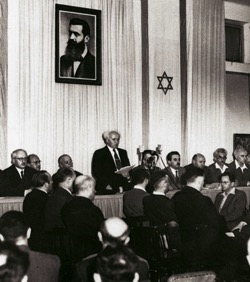 On May 14, 1948, in Tel Aviv, David Ben-Gurion, shown standing beneath a portrait of Theodor Herzi, one of the fathers of modern political Zionism, proclaims the State of Israel, establishing the first modern Jewish state.  
Now, 67 years later, Israel remains the only nation in the middle east with a democratically elected government.
I have been privileged to visit Israel twice, in 1991 and 2000.  I consider those visits significant highlights of my life.