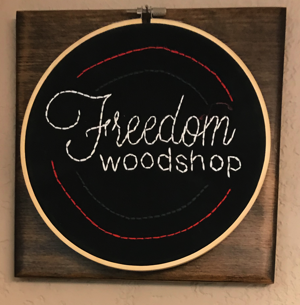 My daughter Holly made this "Freedom Woodshop" decorative plaque for me several months ago.  I display it proudly over the door leading from our garage into the kitchen of our home. Alas, I was disappointed to learn that the domain name "freedomwoodshop.com" was already taken, but I have owned and operated the "ilovefreedom.com" website for many years.
So … I plan to repurpose this site slowly over the next few months to address my growing woodworking hobby and perhaps also sprinkle in some thoughts about freedom in this great country I love, all under the banner of "I Love Freedom Woodshop."
Stay tuned for the changes to come!