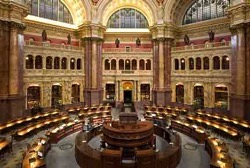 My father once said, "The Marriott family liked the University of Utah more than Brigham Young University. They only gave BYU a basketball arena.  They gave the UofU a library!"
Perhaps that viewpoint is debatable, but one thing is true – 2015 years ago yesterday, the Library of Congress was established. As reported by History.com:
President John Adams approves legislation to appropriate $5,000 to purchase "such books as may be necessary for the use of Congress," thus establishing the Library of Congress. The first books, ordered from London, arrived in 1801 and were stored in the U.S. Capitol, the library's first home. The first library catalog, dated April 1802, listed 964 volumes and nine maps.
In a welcome message on the Library of Congress website, James H. Billinton, current Librarian of Congress stated:
The Library of Congress is the nation's oldest federal cultural institution and serves as the research arm of Congress. It is also the largest library in the world, with millions of books, recordings, photographs, maps and manuscripts in its collections.

The Library's mission is to support the Congress in fulfilling its constitutional duties and to further the progress of knowledge and creativity for the benefit of the American people.

As Librarian of Congress, I oversee the many thousands of dedicated staff who acquire, catalog, preserve, and make available library collections within our three buildings on Capitol Hill and over the Internet. I am pleased that you are visiting our Web site today, and I invite you return to it often.
According to LibraryScienceList.com:
The Library of Congress is the largest library in the United States. It features 883 miles of shelving, houses 155 million items total, and holds 33 million books that are written in 460 different languages. It's also home to 68 million manuscripts, 6.5 million pieces of music, more than 5 million maps, over 3.4 million recordings, and more than 13.5 million photographs.
We would do well to heed the counsel of Benjamin Franklin, who founded the nation's first public library, "Being ignorant is not so much a shame, as being unwilling to learn." Later, he would also say: "The doors of wisdom are never shut."
With all the material in the Library of Congress, there is no shortage of what to read or watch.  Let's just remember the Proverb, "Wisdom is the principal thing; therefore get wisdom: and with all thy getting get understanding." (Proverbs 4:7)