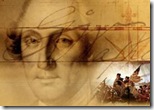 I stumbled across a delightful website this morning, "Rediscovering George Washington." This site accompanies a 90-minute high-definition PBS documentary that originally aired nationally on July 4, 2002.
The following paragraphs from this site attempt to describe the father of our country:
"If he had lived in the days of superstition, he had been worshipped as a god," said Benjamin Rush, of George Washington.
"He has so happy a faculty of appearing to accommodate and yet carrying his point," wrote Abigail Adams, "that if he was really not one of the best-intentioned men in the world, he might be a very dangerous one."

George Washington won an eight-and-a-half year war against the mightiest military power on earth; he presided over the Constitutional Convention; and he served as first President for eight years. At the end of every assignment, he returned his power to the system which had honored him. He embodied America's principles, both by taking charge effectively in war and peace, and by stepping down when the time came. He was, as James Thomas Flexner called him, "the indispensable man."

The pre-eminent positions that he held, the unrivalled honors he received, can only hint at the greatness of Washington. They are rays cast by the light of his greatness itself, the qualities of mind and character that shone brilliantly in all these positions and fully deserved all these honors—and more. The three sections here introduce readers to Washington's greatness, call attention to some of his most striking qualities of mind and character, and suggest the significance of this great man for our generation, and for every generation, of Americans.